Heading on TJ. Info on TJ's dam, Yes Darlin
Yes Darlin
Okey Dokey Dale x Yes It Is (Is It True)
2004 Black Tobiano Mare – 16H
aka "Darlin"
Sire: Okey Dokey Dale
OKEY DOKEY DALE SI 108, was 1999 AQHA champion 3-year-old colt with earnings of over $250k and his progeny have earned over $12 million and counting. First Down Dash, First Prize Rose, Dash For Cash, Okey Dokey Baby and Zevi are all Champion/Champion producers with progeny earnings well over $100 million!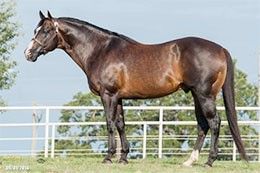 Dam: Yes It Is
YES IT IS SI 85 ($6626) - a bay tobiano daughter of the Jockey Club stallion "Is It True". Dam of GRAND POINT SI 97 (APHA Champion 2-Year-Old Colt, $21,343)
2nd Dam: Reba McIntyre SI 98 ( tobiano daughter of Hempen out of Easy Jet daughter – Western Music. Reba McIntyre SI 98. 2 wins, $6,593, stakes finalist. Dam of CUTE KISS SI 96 $19,044) POQUITO DE SOL SI 95 (APHA Champion Solid 3-Year-Old, APHA Champion Solid 3-Year-Old Gelding, $48,714), Salty Reba SI 90 ($25,876); granddam of Treasured Dandy SI 81 [G2]. Sired by: Hempen TB: 20 Starts: 11 - 2 - 1, $108,808) Western Music SI 96 $22,267 (6 outs with 6 wins and National Champion) who was also a multiple ROM and stakes producer. Western Music is also the dam to multiple AAA producing daughter of Holland Ease, Western Memories. Western Music was own daughter of Easy Jet out of Indian Music, which makes her a full sibling to Easy Jet Too and a half sister to Cherokee Indian on her dams side.

OFFSPRING:
FIESTA DARLIN – 2021 Sorrel Mare by HP Dash Ta Fiesta; enrolled in Ruby/Pink Buckles, FF and Tomorrows Legends incentives; Fiesta is a future hopeful as a futurity mare
GUYS DARLIN MOON – 2019 Black Tobiano mare by Guys Canyon Moon
ONE SLICK DARLIN - 2016 APHA Black Solid Mare by Slick by Design; 1D barrel mare, winner of $3169 at the 2021 APHA WORLD Show with jockey Ryan Reynolds. This mare clocked a 17.269 for third in the 1D, second in the Texas-bred, and first in the futurity sidepot.
SPOTTED IN TRAFFIC – 2015 Bay tobiano gelding by Traffic Guy
TRAFFIC JAM – 2014 Buckskin gelding by Traffic Guy; APHA Point Earner in Stakes Race
PAINTED BY TRAFFIC – 2013 Bay tobiano gelding by Traffic Guy; Rope/Head Horse